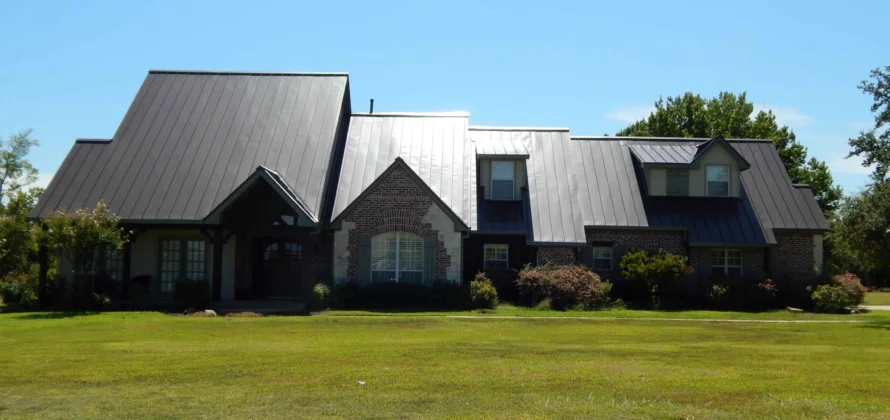 Is it OK to Put a Metal Roof Over Shingles?
If you're considering upgrading your roof to increase its longevity or improve the overall energy efficiency of your home, installing a metal roof is a smart move. But if your home currently has a shingled roof, you may be wondering what your options are in terms of replacement. Will you need to tear off the existing roof to install the new one? Or can you install metal roofing over your existing shingles? Below, the experts at Paradigm Roofing outline what you need to know about installing a metal roof over an existing shingled structure.
Is It Possible to Install a Metal Roof Over Shingles?
In a word, yes. It's absolutely possible, and even fairly common, to install metal roofing over shingles. However, that doesn't necessarily mean this particular installation method is permitted in your local area. To find out whether you're legally allowed to install a metal roof over an existing shingled roof, you'll need to contact your local building department and inquire about approved roofing installation methods.
Keep in mind, though, that the structural condition of your current roof plays a major role in determining whether installing a metal roof over shingles is permissible. If the plywood and all structural components are in good condition and properly secured, a metal overlay is almost always feasible. If, on the other hand, the primary roof structure or supports have suffered significant damage or deterioration, installing a new roof on top of the existing structure is not recommended.
Installing a Metal Roof Over Shingles: 3 Factors to Consider
Though installing a metal overlay on top of your existing shingles can save you a pretty significant chunk of change in certain scenarios, it may not be the best idea in terms of safety or longevity.
As mentioned, if you have a shingled roof in great structural condition, installing a metal overlay is generally a feasible, cost-effective option. But if your existing roof is nearing its end, and that's the reason you're considering a metal overlay, exercise caution. Before you decide whether an overlay is right for your home, consider the following factors:
Long-Term Performance
Installing a metal roof over existing shingles does have its drawbacks in terms of longevity and damage detection. If your current roof has problems such as mold, mildew, or organic growths, installing a metal overlay may only serve to camouflage these issues, not solve them. Not only will a metal overlay make it more challenging to detect potential problems with the underlying roof structure, but it may also serve to allow present issues to quietly grow more severe.
Roof Weight
How heavy is your existing roof? Does it have more than a single layer because there's an existing overlay present? Installing a metal roof over shingles adds considerable weight to your existing roof, which is great in terms of wind protection but, in many cases, not great in terms of structural stress. The added weight from an overlay places additional stress on your home's roof supports, walls, eaves, and other structural components, which can contribute to structural problems over time.
Moreover, if your existing roof already contains multiple layers, local building code may not permit an overlay. In most cases, building codes permit up to two layers on a residential roof, but regulations vary based on location. It's always a good idea to consult with a reputable roofing contractor to determine whether a tear-off is necessary or whether a metal overlay may be a feasible alternative.
Roof Warranty
Most homeowners appreciate a good roof warranty, right? But to ensure your material warranty remains in good standing, you must comply with all manufacturer-stipulated terms. Unfortunately, many manufacturers consider material warranties void when those materials are installed as part of an overlay rather than full roof replacement. To learn about specific warranty conditions for the materials you're considering, consult with a licensed roofing contractor who can thoroughly explain what constitutes a breach of warranty terms.
Metal Overlay vs. Full Roof Replacement: Which Is Better?
If you're looking to save on roof installation costs, a metal overlay is a worthwhile consideration — if and only if there's minimal potential for structural problems down the road. In terms of long-term performance, however, opting for a complete roof replacement is typically the best course of action.
A complete replacement will not only ensure your roof retains its stated warranty, but also help ensure the longevity of your new roof. While most new metal roofs boast lifespans of 40 to 70 years, overlays generally deteriorate faster than their singularly installed counterparts. As a result, homeowners spend more on repair costs and ultimately end up replacing the roof anyway. Despite its larger initial investment, over the long term, a complete roof replacement almost always proves the more cost-effective option.
Need a Reputable DFW Roofing Contractor? Contact Paradigm Roofing
When you need a roofing contractor you can trust, get in touch with our team at Paradigm Roofing. For over 30 years, we've provided Dallas, Fort Worth, and McKinney homeowners with industry-leading roof installation, repair, and replacement, and we're ready to help you too. Whether you need advice on the best roofing options for your home or need a few simple roof repairs, our licensed, insured contractors are at your service. To learn more, request an estimate, or schedule an appointment, give us a call today at 972-542-7774, or contact us online, and we'll be in touch promptly.