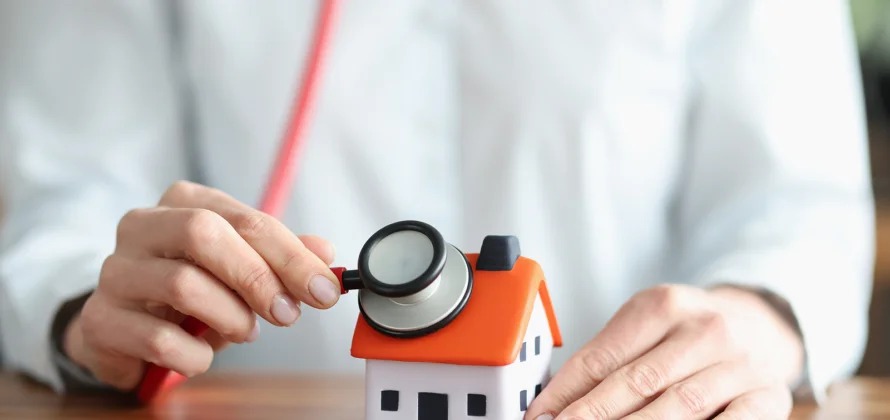 Should You Repair or Replace Your Roof?
Does your roof have a few issues that need professional attention? Do you need help to determine if you should repair or replace your roof? Depending on how old it is and the type of damage or deterioration you're looking at, it might be fixed with a few inexpensive repairs or your home may require a total roof replacement.
But determining whether your roof is due for repairs or a complete overhaul isn't always black and white, especially if you're hoping to fix your roof on a budget.
So how do you know whether you should opt for a roof repair or replacement? Our team at Paradigm Roofing is more than happy to help. We can thoroughly inspect your roof and advise you on the best course of action for your situation.
What Does Roof Repair Involve?
The roofing repair process is meant to fix minor roof damage in most cases. But sometimes, repairs may be appropriate for areas of moderate damage, too. When you hire a roof repair company, the first thing the roofing contractors will do is perform a thorough inspection of the roof to locate any existing damage. Be aware that your contractors may end up finding damage you weren't even aware of when you scheduled the appointment.
After locating and assessing all damaged areas of the roof, the contractors will perform the appropriate repairs to restore the roof to safe condition. Depending on the type of damage you're dealing with, repairs may include:
Replacing roof flashing around protrusions and in roof valleys
Replacing worn, damaged, or missing shingles or tiles
Replacing sections of shingles that have lost a considerable amount of granules
Replacing worn fasteners on metal roofs
Patching leaks and resealing gaps or seams
Depending on the extent of the damage, roof repairs might also involve replacing just a section of the roof rather than the entire thing. Your contractors will let you know what the best course of action is based on the projected longevity of your roof and the type of repairs it requires. They'll also help you determine how to handle the damage based on whether or not repairs are more cost-effective than replacement over the long term.
Generally, most roof repairs can be completed in a day; however, if your roof needs more extensive work, the job may a couple of days to finish.
What Does Roof Replacement Involve?
When you hire contractors for a roof replacement, they'll strip the roof down to its decking. After removing the roof's exterior components, they'll then install brand-new shingles, tile, slate, shake, or metal roofing. If you're dealing with water-damaged decking or any degree of roof rot, the contractors may need to replace sections of the wood decking as well.
When you get a replacement, you can opt to stick with the type of roofing you already have if you've enjoyed its performance and aesthetic. Or, you can choose a new type of roofing if you'd like to upgrade your household energy efficiency or install a less costly material.
Depending on the type of roof the contractors install, the project could take as little as a day or as long as a couple of weeks.
What Is a Roof Overlay (Re-Roofing)?
An overlay, also known as re-roofing, involves restoring an old roof by installing a new roof on top of an existing roof. However, overlays aren't always possible, as they're really only suitable for roofs with a single layer of asphalt shingles.
Roofs that already have two layers — meaning they've already had an overlay — cannot have a third layer of shingles. Roofs that have damaged decking aren't eligible for overlay either.
If your roof is getting old and nearing time for replacement, you may be able to opt for re-roofing rather than a complete tear-off if you want to save money. Since overlays don't involve dismantling any parts of the roof, they typically also take less time to complete than full replacements.
But keep in mind that while an overlay might be more affordable and time-efficient to install, it will have a shorter lifespan than a full-scale replacement. In some cases, new roofs can last a full decade longer than their overlay counterparts.
Deciding Between Roof Repair and Replacement
Which type of roof restoration project should you opt for? Here are some factors to consider to determine whether you should get roof repairs or a complete roof replacement.
Age of the Roof
Every roof has a lifespan during which it will perform optimally. And when it's nearing the end of that lifespan, it becomes far more likely to suffer problems that could end in leaks, mold, or rot.
So how long will your particular roof last? That depends on the type of material it's made of and how well it was installed and maintained. Here are the estimated lifespans for some of the most popular roofing materials on the market:
Asphalt shingles: 15 to 30 years
Architectural shingles: 25 to 30 years
Wood shake: Up to 30 years with regular maintenance
Metal roofing: 50 to 70 years, sometimes longer
Clay or slate tile roofing: 50 to 100 years, sometimes longer
If your roof is nearing the end of its life or is well outside the manufacturer's warranty period, it's probably time to start considering roof replacement. If you're just looking at a few minor problems, you can likely get by with roof repairs, but that'll only be a temporary solution.
To maintain the value of your home and protect the interior of your house from water damage, a roof replacement will likely be necessary sooner rather than later.
Size and Severity of the Damage
Roof repairs are only designed to restore minor to moderate roof damage that exists within a relatively contained area. If a tree fell on your roof and damaged an isolated area or small sections of the roof were damaged during a hail storm, repairs can likely fix the issue(s). The same idea applies if you're dealing with minor water leaks or other isolated areas of minor damage.
If, however, parts of your roof are severely water-damaged or you have lots of missing shingles or tiles, a complete roof replacement is likely necessary. Failing to address the issue(s) properly could encourage further deterioration over time, at which point, you may be forced to replace the roof if you want to maintain your homeowner's insurance coverage.
Overall Condition of the Roof
If your roof looks like it's seen better days, it's likely time for a replacement. But if you're not facing any deep-seated damage like mold, rot, or water-related problems, you may be able to opt for an overlay, based on your roofer's recommendation.
Keep in mind, though, that if you invest in an overlay, the next time your roof requires replacement, you'll likely pay more for the job. Tearing off two layers of roofing takes quite a bit more time than a normal replacement project. While you'll save money on the overlay, the cost of your eventual roof replacement might cancel out any savings you initially enjoyed.
Need Roof Repair or Replacement Near McKinney, TX?
If your home has roof damage or deterioration, let our team at Paradigm Roofing help you out! We specialize in both residential and commercial roof repair, replacement, and installation and have proudly served McKinney, Dallas, Fort Worth, and the surrounding areas for more than 30 years.
To learn more about our services or get a free quote, give our team a call at 972-542-7774 or leave us a message on our contact page.